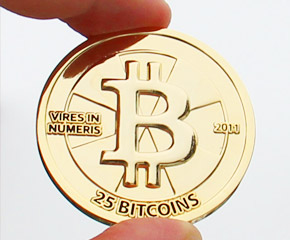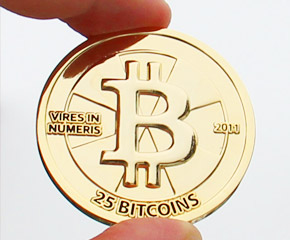 If it is true, like the old song says, that you're nobody until somebody lobbies for you, then the "bitcoin" just got real.  Traders, investors and "miners" with interests in the much buzzed about crypto-currency, responding to a welter of controversies, have launched the coin's first lobbying trade group, the Bitcoin Foundation, to run interference for them in Washington.
Bitcoins were born in the shadows of the internet.  The concept underlying the bitcoin was introduced in 2008 by a yet unknown developer, or developers, operating under the pseudonym "Satoshi Nakamoto."  (Like dollars, the bitcoin breaks down into smaller units—the change of the currency—which are called "satoshis.")
The bitcoin is purely virtual cash.  It is created –or "mined"–using a complex, open source protocol shared across linked computer networks.  Once created a bitcoin can be banked or spent or traded.  It can be moved around the world via person-to-person transactions, crossing international boundaries without leaving a paper trail.  A growing number of merchants accept the bitcoin, online gamblers bid and buy in bitcoins, and for hardcore speculators it is nothing less than the twenty-first century's own version of gold.  Online exchanges trade in bitcoins, allowing investors, wherever they may be, to flip their crypto-coin for harder currencies like the dollar, euro or yen.   The cash-out value of a bitcoin has risen and fallen over the past year in jarring spikes and plummets, at one point rising to well over $200, before tumbling back, at least for now, to about $145.
Such volatile shadowiness alarms regulators, consumer watchdogs, and national security officials who envisage bitcoins as a dark horse vehicle for fraud, money laundering, and tax evasion.  Their skepticism came to a roar over the summer when a score of subpeonas were dropped on New York bitcoin companies by state regulators, and seven D.C. agencies announced meetings to investigate the bitcoin economy.
Rushing to Washington to head-off this demolition, the Bitcoin Foundation, standing up for than forty corporate backers, including the large retailer Bitcoinstore and the Tokyo-based bitcoin exchange Mt. Gox, offered witnesses and testimony in the hopes of allaying concerns over the security and legality of crypto-currency economics.
The Washington hearings will undoubtedly push bitcoins further into the light than some would like.  But for others, this moment is an opportunity to increase public understanding of the bitcoin, and its potential as a novel financial product.   Among those seeking to leverage this awareness are Cameron and Tyler Winklevoss, the Facebook twins, who are seeking regulatory approval to open the first bitcoin commodity exchange.   The Winklevosses recently disclosed that they control approximately 1 percent of all bitcoins, a position valued at $10 million.
Although experts are downbeat that regulators will sign off on the Winklevosses's ambitious plans, or, frankly, put official government imprimatur on any bitcoin venture, the currency is already wedged into our commerce.  It supports an economy worth billions of dollars, and is accepted as a form of payment by major dot.comers like WordPress, Reddit, OkCupid and EZTV.  And, of course, governments that suppress the bitcoin should take note: they are, none too surprisingly, taken as donations by Wikileaks.
VIDEO: What is Bitcoin?
If you're brave and wish to go deeper, START HERE.