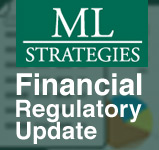 SEC VOTED TO PROPOSE RULES FOR INCENTIVE-BASED PAY FOR BROKER DEALERS AND INVESTMENT ADVISERS
On March 2, the SEC voted (3-2) to go forward with proposing enhanced disclosure requirements for inventive based broker dealers and investment advisers and to forbid pay structures that lead to "inappropriate" risk practices. The SEC also unanimously agreed to rules to remove credit rating references from the Investment Company Act rules and forms. Chairman Schapiro said "the focus of these efforts is to eliminate over-reliance on credit ratings by both regulators and investors." The SEC also agreed to reopen the comment period for proposed Regulation MC designed to alleviate conflicts of interest in swap markets.
The proposed compensation rule would: require broker-dealers and investment advisers with over $1 billion in assets to disclose their compensation arrangements, forbid arrangements which may lead to risky actions and require firms to develop policies and procedures for such arrangements. The proposal also increases incentive-based pay requirements for smaller entities with more than $50 billion in assets. Two commissioners voted against the proposal calling it ""very particularized" with a "prescriptive regulatory approach." Deputy Director of the SEC's Division of Trading and Markets said they were "sensitive" that deferral of compensation would not be appropriate for all firms.
Comments on the proposed rule will be due 45 days from when the proposal is published in the Federal Register.
Topics From Full Report Include:
CHAIRMAN BERNANKE SEES LITTLE ROOM FOR CHANGES TO INTERCHANGE FEE PROPOSAL
GENSLER SAYS CFTC WILL NOT PRESS FOR END-USER SWAP MARGINS
SENATOR STABENOW URGES CFTC AND SEC TO GO SLOWER IF NECESSARY TO ENSURE THAT RULES "IMPLEMENTED LOGICALLY"SEC VOTED TO PROPOSE RULES FOR INCENTIVE-BASED PAY FOR BROKER DEALERS AND INVESTMENT ADVISERS
HOUSE FINANCIAL SERVICES SEEKING TO DO AWAY WITH HOUSING PROGRAMSSMALL BUSINESS AND FINANCIAL INSTITUTIONS FEAR DODD-FRANK REGULATORY 'TSUNAMI'
SENATOR SCHUMER ENCOURAGES BERNANKE TO REEXAMINE FSOC DISCRETION ON MERGER LIMITS
WARREN SAYS CFPB FOCUS WILL BE ON TRANSPARENCY TO CUT REGULATORY COSTS AND AID CONSUMERS
GEITHNER SAYS CONGRESS SHOULD FINISH MORTGAGE FINANCE OVERHAUL WITHIN TWO YEARS
LAWYERS FOR FINANCIAL FIRMS ARGUE FSOC LACKS AUTHORITY TO PROMULGATE SIFI RULE
DOL HEARING ON DEFINITION OF FIDUCIARY
UPCOMING HEARINGS